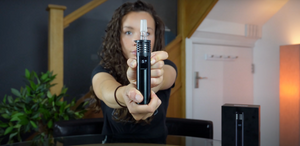 Arizer Air Max Review
Arizer from Canada are very well known in the dry herb vape industry. They have been producing vaporizers for over 15 years and we would go as far as saying their name holds as much weight as the loved Storz&Bickel brand does.
With innovations such as the Arizer EQ, The V Tower, The Solo 2, The Argo, and the XQ2 just to name a few, they were also the first company to introduce the whip attachment to your desktop vaporizer - an absolute game changer in our eyes.
The Arizer Air Max is what many people were predicting to be the Air 3, however, Arizer surprised everyone with a name change and went with Air Max instead, for good reason too.
The Arizer Air Max is a  sleek, cygar-style-looking vaporizer and actually very pocket friendly too we would say.
 What's Included in the Box
 Arizer Air Max Device
2600mAh Battery & USB-C Cable
Glass Aroma Tube (70mm)
Frosted Glass Aroma Tube (14mm)
Glass Aroma Dish.
2 Silicone Stem Caps.
2 PVC Travel Tube w/ Cap (70mm Size)
 Upgrades & Features
 The first upgrade we would like to cover when it comes to the Arizer Air Max is definitely the 26650mAh battery that this bad boy features, this is a very welcome surprise and a much-improved battery life when comparing it to the 50 minutes of use the Arizer Air had or even the 90 minutes of use the Arizer 2 had.
The 26650 battery featured in the Arizer Air Max will give you 135 minutes of use, so that's over 2 hours you can be enjoying your vaporizer for! The 26650 battery is still fairly new technology when it comes to vaporizers and Arizer has been very quick to adapt this new battery for their newest vaporizer release.
The next upgrade with the Arizer Air Max is the advanced, fast-heating ceramic heater that's stronger and faster than its predecessor. This updated heating system can keep up even when you're using the vape with water tools and can reach vaping temperatures in under a minute.
To maximize herb extraction it utilizes hybrid heating, which is the simultaneous use of conduction and convection heat. Conduction heats your herb via direct contact while convection heats it by circulating the air in and around the material.
Welcome USB-C! We believe It was essential that the latest Arizer product included USB-C and they didn't let us down - the Arizer Air Max can be used through USB-C charging and reach 90% battery in just under 2 hours, a game changer.
Arizer have also introduced "Dark Mode" for the Airzer Air Max -  Go easy on your eyes in the dark.
Switch to Dark Mode – a low-light symbol display with condensed Custom Session Settings – for low-profile use.
The Arizer Air Max also includes the signature Arizer features such as the easy-to-use controls and an adjustable OLED display that will let you choose your exact chosen tempatarue by 1c difference and also the original glass pod system that we have all learned to love so much - but more detail into that lower in the review.
 Arizer Air Max Performace & How It Works
The amazing Charlotte here at Puff Puff Palace had the honors to try out the Arizer Air Max and report back to us on how it performed and what she liked about it, check out the youtube video where she gives her first impressions on the Airzer Air Max.
The report we got back was pretty much what we had all also experienced with the Arizer Air Max here at PuffPuffPalace, a device that brings flavors and terpenes out of your material that is truly unrivaled by any of the other dry herb vaporizer companies.
She accidentally used the water piece attachment as the mouthpiece as she thought it was the longer glass stem but later on realized it wasn't... this is just to say she still had a very smooth experience and this just goes to credit Arizer for making products that are generally very smooth.
One thing Charlotte found that we all here at Puff Puff Palace can also agree on is that the Arizer products definitely like being vaped at higher temperatures in order to get those satisfying clouds and even then the Arizer vaporizers are not really known for the clouds they produce - however, this Arizer Air Max would have 1 or 2 clouds to say about this, hehe, no? Okay I'll stop. 
It's also very nice for them to have included the water piece straight in the box, nice touch Arizer.
Overall Thoughts & Conclusion
The Arizer Air Max has brought a lot to the table, what really makes it stand out in our opinion is that the airflow is much improved compared to the previous models and you can really tell! And when you already take into consideration the flavor that Arizer vapes deliver then it's a match made in heaven!
A quick heat-up time matched with long battery life and hybrid heating technology, honestly what's there not to like about the Arizer Air Max? We love all the Arizer range and all the vaporizers they have released over the years but when it comes to portables - the Arizer Air Max simply takes the cherry on the cake.
Pocket friendly and stylish looking this is the Arizer Air Max and it can do no wrong! The Arizer Air Max comes highly recommended here at Puff Puff Palace.
This has been all for this review and we will catch you in in the next blog, until next time, peace. Oh & you can of course get your own Arizer Air Max here at Puff Puff Palace, bye!  
---